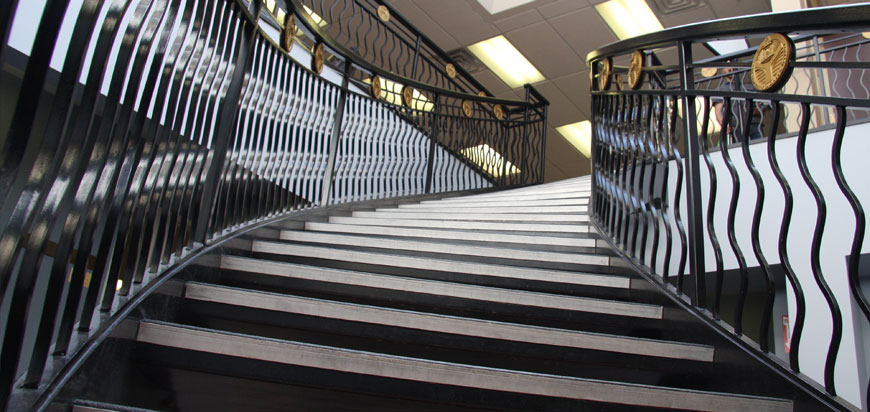 Welcome to Zanesville, Ohio, a city filled with rich history, vibrant present growth, and a bright future!
Zanesville – Muskingum County is a charming, historic community swarming with fascinating attractions and treasures. From unique shopping and excellent dining, to insightful manufacturing tours and the friendly spirit of middle-America, Zanesville – Muskingum County offers the hospitality of the heartland and a destination unlike any other!
It's an exciting time to be part of an exciting city, and we invite you to be part of it! Whether planning a large seminar, convention, or reception or coordinating a small meeting, production, or celebration the Muskingum County Convention Facilities Authority and Welcome Center is the right place to start!
The conveniently located Welcome Center not only serves as a tourist information center, but it also serves as "Your Meeting and Convention Center". The Welcome Center offers two (2) versatile and spacious exhibit/banquet halls, an executive boardroom, a flexible conference/training room, and a 45-seat presentation theatre. Our prices are competitive, and we include the following features in our Rental Fee: one-time room setup, administrative time, tables & chairs, state-of-the-art audio/visual equipment, food prep area, parking, clean restrooms, refreshment services, and an open catering policy.
Designed for ease of access and visitor convenience, The Welcome Center is located immediately off I-70 in Muskingum County. An ideal meeting destination, The Welcome Center is suitably positioned as the gateway to downtown Zanesville, with the following surrounding amenities: lodging, restaurants, adequate parking, Secrest Auditorium, the Lorena Sternwheeler (available for seasonal scenic cruises on the Muskingum River), Zane Landing Park, and specialty shops that feature pottery, baskets, and antiques.
Please don't hesitate to contact us with any questions or scheduling requests. Please notify us at your earliest convenience if you would like to schedule a time to tour the facility and/or share it with a client. We look forward to doing business with you.
---
Executive Assistant
Carolyn Buchanan
Contact Information
---
Personal Background
With a degree in Applied Business and over fifteen years of dedicated service to the Muskingum County Convention Facilities Authority, Carolyn Buchanan proudly serves as the Executive Assistant of the MCCFA, where she strives for efficiency and accuracy while meeting the charges, goals, and expectations of the position and organization. A lifelong resident of Zanesville, Carolyn grew up learning about the details of business development, property management, and customer service, as her parents owned and managed housing, lodging, and hospitality-based businesses. "I really enjoy talking with people regarding their meeting and event needs. From the time of their initial phone call or email inquiry while in the early planning stage, to seeing the end result of that meeting or event become a success! Whether it's a Small Workshop for a few guests or an Expo filling our Conference Center, each one is equally important!"
Testimonials
---
I would like to thank you for your outstanding assistance with our recent Rural Tour town hall meeting in Zanesville. Things went very well, due in no small measure to your involvement, and we appreciate your efforts very much.
Thank you for allowing the Muskingum County Auditor's office to utilize the Welcome Center Heritage Room for the 2018 Revaluation Kick-Off Meeting on March 1, 2016. I was very pleased with the facility as well as the staff's efforts assisting with our needs for this meeting.
We had such a positive experience with you and your facilities.
Thank you so much for your work on our event...I have received very positive feedback and I'm sure we will be using your location again when the opportunity to do so comes up!
Thank you for your help in making our 70th surprise for our dad a great event! It was a pleasure working with you. We will be always grateful
Thank you very much for your assistance in making the Treasurer's visit to Zanesville very successful. Thank you for helping me in my role to get it setup so easily. Thank you again to you and all others for their help.